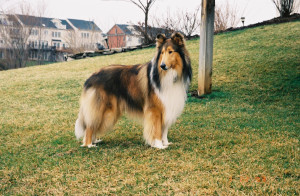 WhiteMoor Collies is dedicated to West River Lord Stanley aka "Sabre".  Sabre was obtained from West River Collies in April 2000.  He was the first collie that I raised from a puppy and my first show dog.  Unfortunately Sabre was only with us for 6 years before we lost him to lymphoma.
I started showing collies in 2000.  I am a member of the Collie Club of America, Collie Health Foundation,  and the Mason-Dixon Collie Club.  .
I had thought of developing a breeding program and my dream started to form in 2006 with the addition of a collie from Marnus.  Since that time I have added 2 more collies from Marnus. In 2012 I added another female, Gabby (Millknock Whitemoor's Wanderlust) to my kennel. 
My dogs participate in conformation, herding, and agility.  They are also certified therapy dogs and we visit nursing homes.
I breed not only for conformation and performance but health and temperament are an important component of my breeding program.  My dogs have been genetically tested for MDR1, PRA, grey collie, and dermatomyositis.  I also do OFA for hips and elbows.  
Whitemoor collies bred winners bitch at the Collie Club of America show (Whitemoor's Good Witch of the North, BN, RN, CGC) in Virginia Beach 2018 under judge Dan Cardoza.